The most beautiful located bungalows of Indonesia. The perfect beach with ultimate privacy. The two very spacious two-room bungalows are 700 meters away from each other. And in between our nice restaurant with views at the forest, river and sea. If you prefer to "rough it up" a little you can bring a tent. When you like to be closer to the daily life in the village you can stay in our home stay in the village Posi Posi Rao. This is the village where Linda is born and where our two Kindergarten schools are. The village is at a walking distance of 45 minutes or 5 minutes by motorbike from Magic Bay Rao.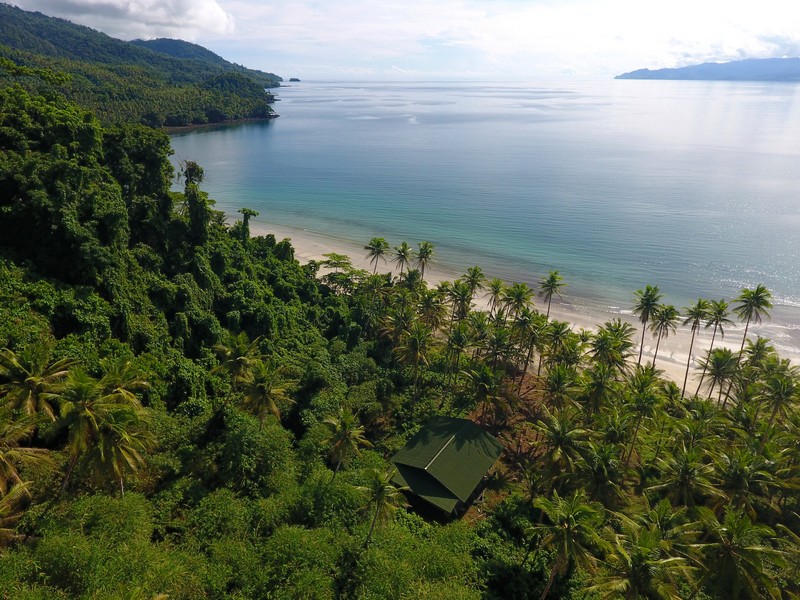 Please view our Photo Gallery  Beach Bungalow 1:
Beach Bungalow 1 is a very specious two-room traditional constructed house. The house is made from stones and coconut wood. The roof is made from the leaves of the Sago tree. The rooms do not have a ceiling and the complete open construction makes you feel like sleeping in pure nature. For extra ventilation both rooms have a ceiling fan. Al windows can be opened. All floors are tiled and always feel cool at your feet. The bathroom is European style with flush-toilet and hot shower. The house is situated 80 meters from the beach at 10 meters above sea level and is surrounded by a small river, bamboo forest and other trees. It is situated 700 meters away from Bungalow 2.
Beach Bungalow 2:
Beach Bungalow 2 is situated 700 meters from Bungalow 1. The main building materials are natural stones and bamboo.  It lies in a beautiful surrounding, 60 meter from the shoreline and at 20 meters above sea level. It has two very spacious rooms, each room measures 31 square meters and there are two modern bathrooms with flush toilets and hot showers.  Although the house does not have air conditioning, it never gets too hot. The rooms have high wooden ceilings, with ceiling fans and the house is well ventilated. All windows can be opened.
There is also an attached roofed deck, measuring 9.00 meters x 5.00 meters. At this deck you have a spectacular view at the beach with the mystic arc-shaped rock "Batu Kopi, the open ocean and the mountainous forests of Rao and Morotai.
All floors of the house and deck are tiled.
Have a look at rates and reservations for all low and high season rates. Send an email for last minute offers.